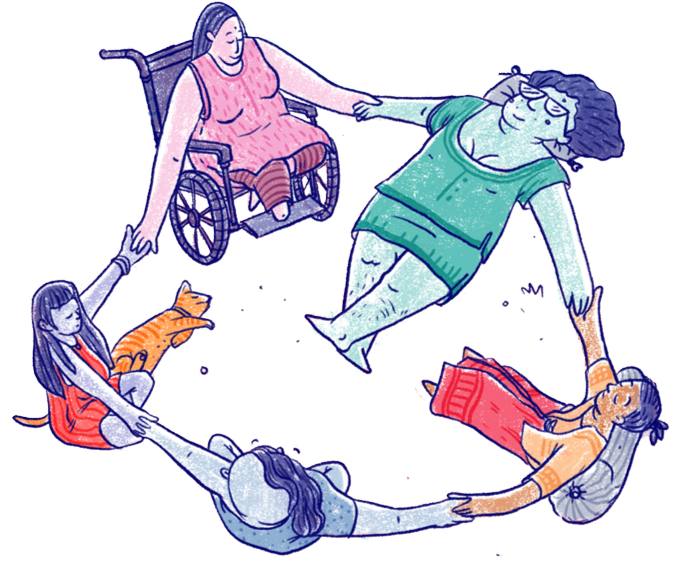 FRIDA believes young feminists to be experts of their own realities, and as a diverse community located in the remotest corners of the world, these realities are often in flux, as contexts change with passing time. Throughout the journey of a young feminist group, activists encounter new trends, discoveries, adapt their strategies accordingly and shape their activism as they move forward.
Leading the call for climate justice
Last year, for the first time ever, we launched an exclusive round of grant cycle dedicated to young feminist groups working on climate and enviornmental justice. These groups self-identified climate and environmental rights as their core area of work.
Although young feminist activists have been working around environmental justice there seems to have been a shift towards owning it as a meaningful space for them to effect change, naming it as a priority and a space in which young people can lead.
Advocating for sexual and reproductive health and rights
The year 2018 saw an increased need to work directly and specifically on sexual and reproductive health and rights. With abortion rights taking most of the groups' time, advocating and raising awareness about safe abortion practises, consent, busting myths and stigma around sexual practises and fighting rape culture was a primary area of work.
Caring for the self and the community
We also observed dedicated time, energy and resources being spent on ensuring that young feminist activists are well taken care of, realise the importance of a good mental health, especially as we do heavy, exhausting and draining work, and working collectively towards the well-being of the community members.
Group De MuJeres
Grupo De Mujeres Xitlali Nicaragua dedicated a time and space for Self-care with the members of the Coordination and Work Team of XITLALI, creating a safe space that allowed sharing, living in closeness with nature, rethinking goals and commitments to life and their organization. The group members believe that these activities really helped strengthened their collective and its future directions.
Crisálidas
Crisálidas from Colombia As part of their self-care and self-protection activities, Crisálidas has sought to share in rural contexts and smaller cities their work experience around feminist self-protection, which has been a way to strengthen themselves and meet women who fight for their territories and who begin to wonder about the violence that they daily live as women defenders. In this regard, since April 2018, they have carried out women's workshops in Ibaguè-Tolima and Santander of Quilichao-Cauca.
Transvoice
Transvoice invited DR Asati along with 14 trans sexworkers who are members of the organisation to retreat at White Crater Bandung, West Java. Dr Asati who has a background in counselling was there to support the group in reflection, meditation, Yoga and Individual counselling sessions. The retreat was central to community strengthening and wellbeing of the collective. The retreat included training on digital security and agreements on how on how to reduce harm of online activities and ensure community care in the digital.
No more violence
With the surge of the #MeToo movement, young feminist activists led the cry to denounce violence in any and all forms that went beyond the hashtag. A majority of FRIDA grantee partners, 21% of the groups we fund, work on ending gender based violence and the contexts and communities they work with vary deeply.